Hat:
Tanith Rowan Designs
Dress:
Avalon Exchange
, St. Louis
When I got interested interested in vintage fashion, I knew my stature would present some roadblocks to wearing it--that the only day I'd fit into a 24" waist again is when I'm a skeleton; that my chances of finding shoes that fit are (barely) slightly better than getting struck by lightning; and my super-strong-but-seriously-sturdy shoulders would destroy petite jacket seams. I had always assumed the size of my cranium, which I had a hard time fitting into contemporary hat styles, followed suit.
But having grown up as the target audience for "Sisterhood of the Traveling Pants," I was powerless to the allure of participating in
Tanith Rowan Designs
' The Sisterhood of the Traveling Hat along with vintage bloggers from across the world! Not only did it allow me to test out the vintage millinery waters, but in going through Tanith's work and blog, I learned a little about hat construction and how to identify hats that suit my head size.
Adelaide is a 1940s-inspired tilt hat with a figure eight attachment, which, according to
Tanith's blog post
about the project, allows the piece to suit a range of head sizes and hairstyles. (See how
Zella Maybe
chose to show off the figure eight attachment during her go-around with the hat!) Tanith also designed Adelaide with the intention of meshing with a range of periods. I decided to pair her with more contemporary pieces--a 1970s secretary dress and a modern dress I thrifted--because I'm crazy about the pops of blue.
It was such an honor to participate and get to wear a repro piece I know was mad with such intention and care!
See how other vintage bloggers styled Adelaide:
Learn more about Tanith's latest collaboration with Nora Finds!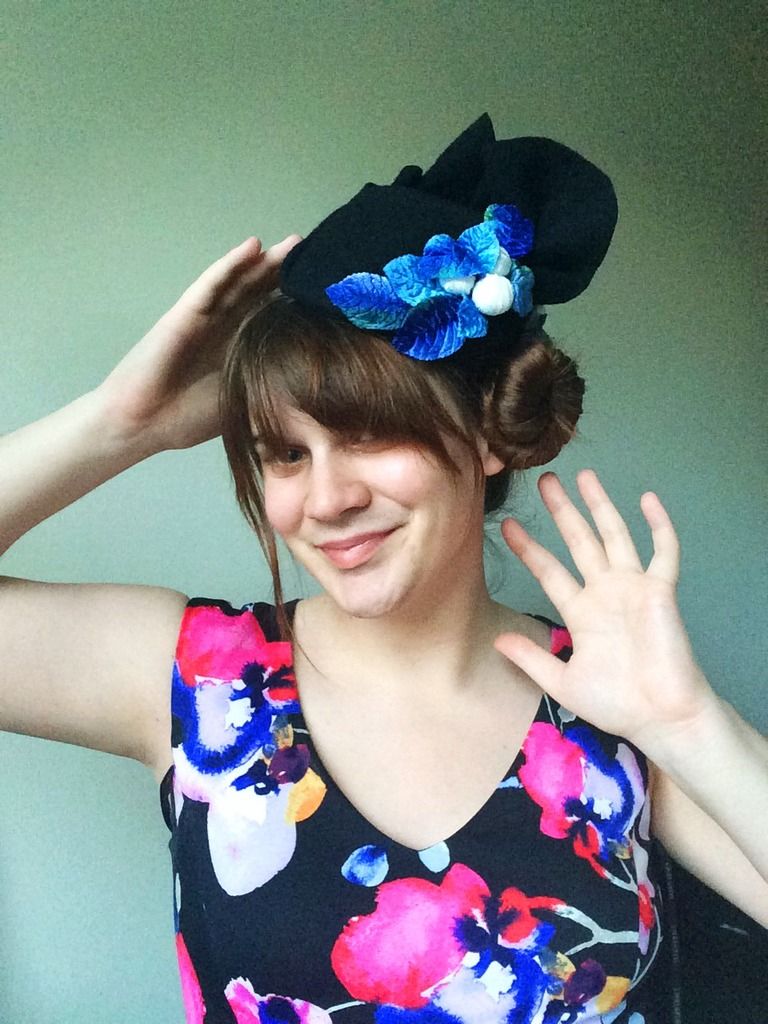 Dress: thrifted, Value Village