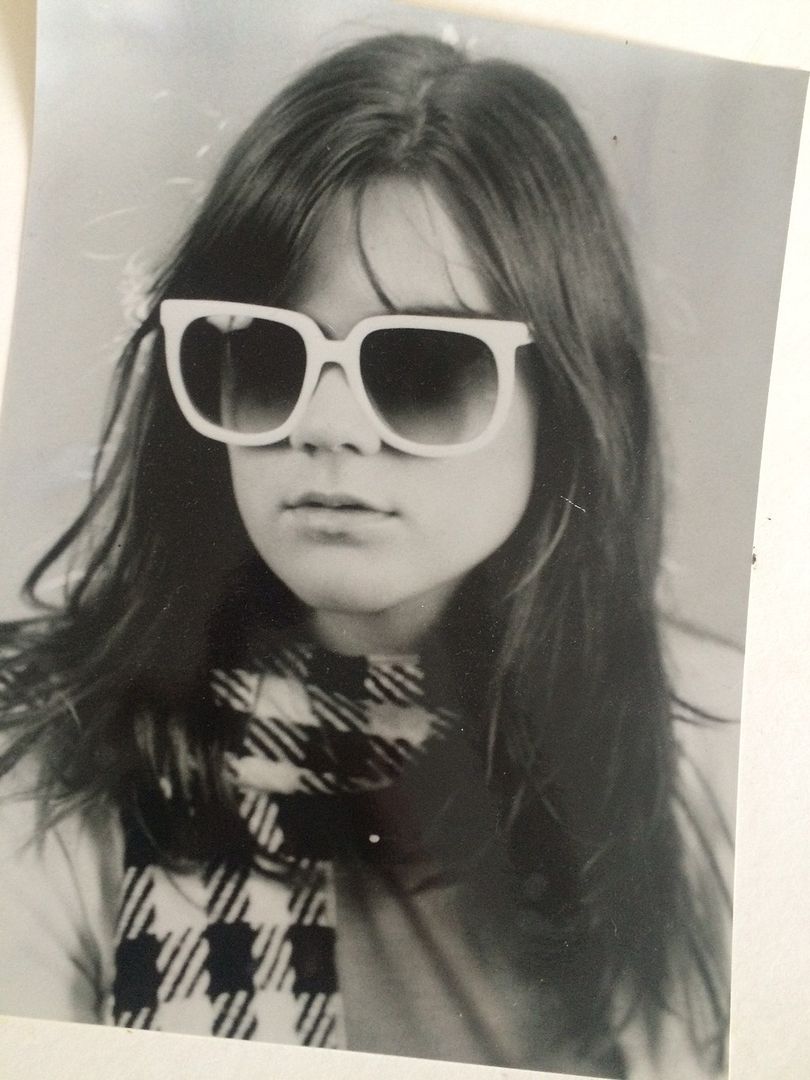 Me in high school rocking the statement accessories
Inspired by:
Elton John, Greatest Hits (1974)
Favorite tracks:
"Crocodile Rock," "Bennie and the Jets"
This entry of '
Vintage+Vinyl
' deals with secret identities--and how a revelation about accessories brought on by Elton John convinced me I would never need to lead a double life.
My mom used to own a photography studio, and I acted as her assistant at weddings some weekends. Carting the camera equipment was thankless and boring, but I always enjoyed the free cake and the reception music. I had a little downtime during every reception when my mom was snapping candids of the dancing and the crowd, and never wasted an opportunity to explore unfamiliar parks and downtowns.
One of these Saturdays I felt the need to disguise my wedding event employee garb. I resorted to items found in my mom's trunk: a deep indigo denim jacket and and black-and-white checkerboard winter scarf it was 30 degrees too warm to wear. Still--I felt sufficiently incognito, and went on about my wandering.
Most of the immediate businesses were closed, save an antique store on the main drag. Early century tchatchkes piled tightly in every stall. I don't remember how I spotted the vinyl copy of Elton John's
Greatest Hits
. I do remember why I decided to make it mine: "Crocodile Rock" was featured on the
High Fidelity
soundtrack, which I loved at the time, and the record was oh-so-reasonably priced at $2. But what sent me over the top was this feeling that the cover art was screaming at me. I was struck by the bigness of Elton's sunglasses and how they commanded his face. Never before would I have thought to pair them with the quirky brooch, which claimed focus against the white suit. Their pairing, which should have been gaudy, emanated an easy glamour, individualized even more with a well-coordinated bow tie. I wanted to adopt this look.
Immediately.
Among the piles I located a short-brimmed straw hat with black trim and a pair of over-sized wayfarer sunglasses--white, the same color as Elton's. I approached the men behind the counter still high on my newest style muse, and something a little crazy happened: I sprouted a new identity.
Maybe the 'disguise' I'd adopted over my work clothes had begun to seep into my brain, or maybe I was just really, really bored, but instead of answering their usual cashier-customer banter as the awkward high school freshman I was, I weaved a tale of a hip college student trying to find some excitement while attending a family wedding for the weekend. I gave myself a name, a major, an apartment in Chicago. Looking back, I'm not sure anyone believed the fib. They did, however, humor me long enough to finish the conversation without laughing, and told me I looked great as I immediately piled my new purchases onto my head. I strutted into the empty streets with confidence.
I do believe there was something special about that first purchase. The flutter of possibility in my torso was more than a case of shopping euphoria. It was a hopeful but nervous burning, like I was about to alter my destiny... it's a feeling I still get when I buy a new record or hear a new earworm. It triggered a piece of me I'd yet to tap into--a daydreaming, casual audiophile who wanted to see possibility in every new song and new experience. I would find a way to use my music collection to learn more about my feelings, to better connect to my perspective on the world through lyrics and harmonicas and pianos and wailing guitars, and to use songs to lift my mood on dark days. (Not coincidentally, Elton John and
Greatest Hits
played a part on some of those days.) And--most of the time, at least--I was able to translate that hopefulness to the everyday--to getting through the school day with minimal boredom, to occupying myself during downtime at track meets, especially to thrifting!!
It took me a while to realize that some of my power that day also came from a realization Elton John gave me about personal style. It turns out it was very simple: own yours. One of the reasons I was so drawn to that particular record were Elton's accessories--the giant glasses obscuring his face, the brooch. I had found a style comrade, and that album cover encouraged me to always follow my style whims, even when I knew they were weird. Because of that album, I'm more me. I do not shy away from accessories big, loud, colorful and quirky--especially sunglasses. I don't find it unseemly to pile on more than one statement accessory at a time, if I'm feeling so inclined, and I've never felt compelled to create an alter ego since.
Read more 'Vintage+Vinyl' entries.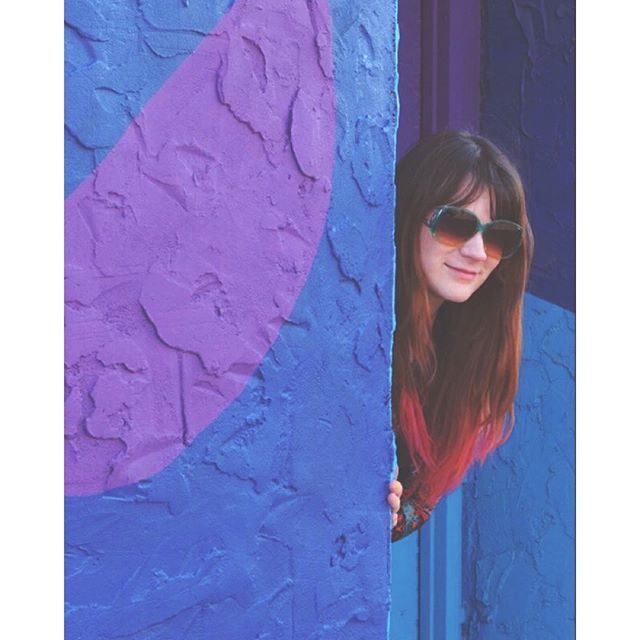 Me rocking giant shades (and other statement--pink tips) in 2015