Karlie Baker of
Bringing Up Bust Form
shares one of her favorite purchases from
Avalon Exchange
(6388 Delmar Blvd., St. Louis, Mo.):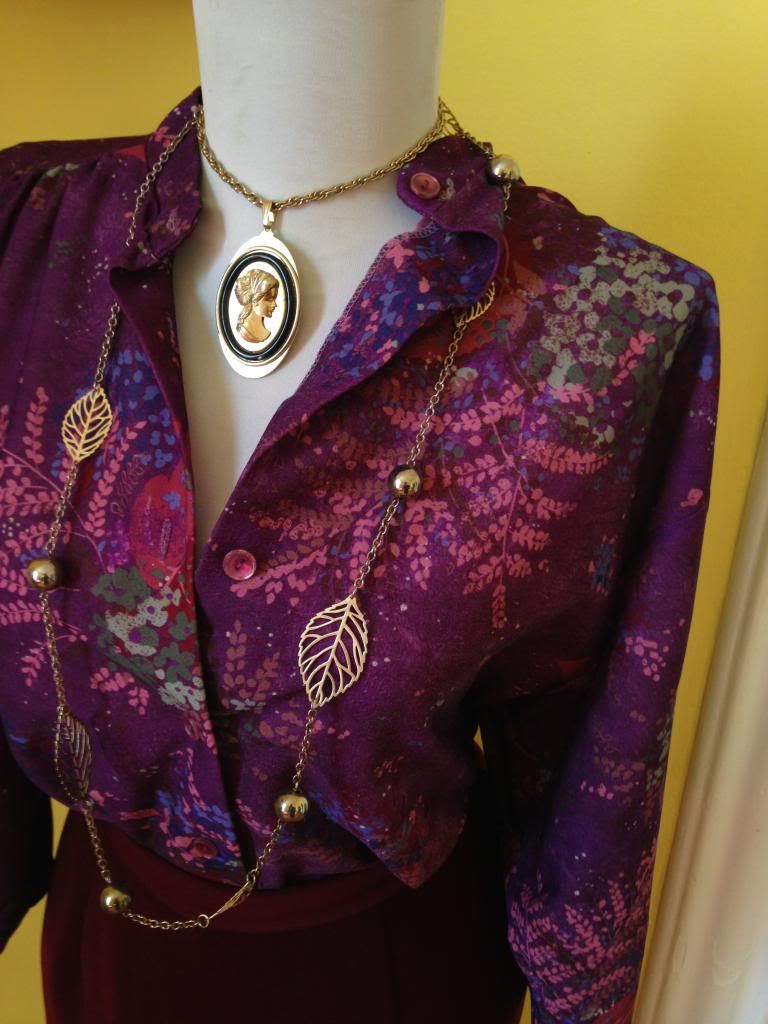 Necklaces and pencil skirt: thrifted
I'm not a targeted vintage shopper who sets out to shops with specific cuts or pieces or even eras in mind. I'm a rummager; I buy just about anything that catches my eye that is reasonably priced and fits me ('fits me' is frequently negotiable). I've found that with thrifting and vintage shopping, willingness to compromise plays an integral role in achieving your dream wardrobe. Part of the appeal of secondhand is the thrill of that moment when you find a piece that's just your style, but a dozen factors lie between spotting the item and taking it home: size, stains, tears, price, the zipper
just
goes up, you love the print but the cut is too bizarre for your frame... and you suddenly find yourself bartering internally, convincing yourself you can make it work despite the obvious flaws.
I'll just go to the tailor and have the neckline changed! I can eat extra health for a few weeks to make sure this fits! Sure, it's out of my comfort zone, but surely I'll find somewhere to wear it!
When I was thrifting in high school my closet was full of these 'compromise' pieces, but I only cared to an extent that things fit enough to have fun with a few times; if it wasn't a match I'd discard it, and if it became a staple I wore the thing until it was in Cinderella tatters. As I've gotten older I've set up a few mental filters to ensure my wardrobe isn't all novelty printed polyester and puffy shoulders. But I'm still known to make the colorful exception.
This floral shirt has become one of my very favorite pieces in my closet--and it's also the most ill-fitting. It has dolman sleeves that run down to the waistline; the torso itself is very wide, so it makes me look boxy unless it's belted or tucked; the high neck either looks impossibly prudish buttoned up, or haphazard with a few undone. Still, I fell in love with the floral pattern instantly. (For followers of my
personal blog
, this is hardly a surprise, since I turned the print into my blog background.) I scored it in St. Louis' Delmar Loop at Avalon Exchange, which is a loud, well-organized shopping mecca for thrifters who like color and pattern. The store is great for going-out wear and borderline obnoxious vintage pieces, many of which you can snag for under $20.
I've tried to harness compromise to make this 'compromise' piece work for me. The boxiness of the torso looks simply billowy when tucked into high-waisted skirts. The other way to accentuate the waist is with an obi belt, which works best when pairing the top with pants or shorts. The upside to such a multi-colored top is that it can be mixed and matched with nearly every pair of bottoms I own, plus a buttload of my patterned socks and tights for added layers.
So my advice? Compromise, even if only once in a while.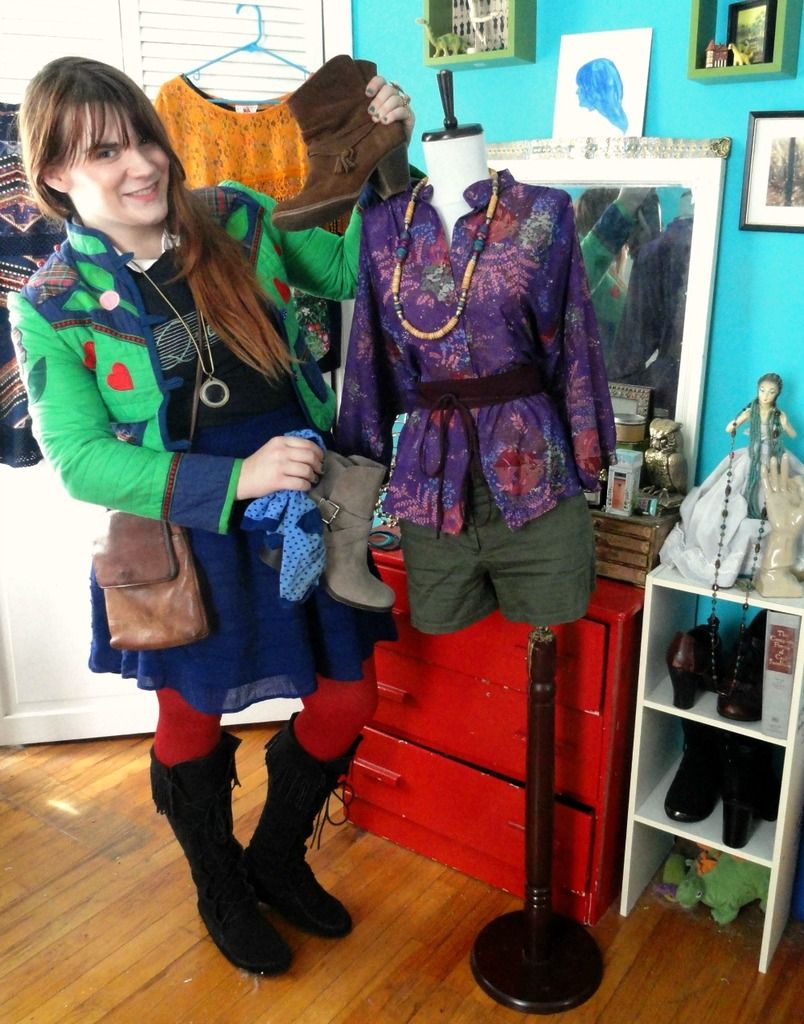 On mannequin
Necklace: purchased at
Belleville Flea Market
Belt and necklace: thrifted
Shorts:
Target
Brown boots:
Bakers Shoes
Blue polka dot socks: Target
Gray boots:
Nordstrom Rack
On me
Jacket: hand-me-down
T-shirt and skirt: thrifted
Tights:
Forever 21
Black moccasin boots:
Minnetonka
Purse:
Nine West