Karlie Baker of
Bringing Up Bust Form
shares her favorite purchase from
Strange Cargo
(3448 N. Clark St., Chicago, Ill.)
.
[Note: This store doesn't typically offer resale items; this was a pure case of kismet.]
Skirt: thrifted
Jewelry: vintage
I found this shirt while back-to-school shopping a few weeks before I started my senior year of high school. The whole situation felt serendipitous. I was checking out at
Strange Cargo
when this tiny blonde swooped through the door in a pile of fury and dumped out a brown grocery bag full of shirts onto the counter top. I tried not to stare. I tried to focus on the small talk the cashier was making with me, but you couldn't help but overhearing every few words. "parking lot handie... four other girls... vacation in Jamaica..."
At that point, I was straight-up
staring
at the girl and the pile of shirts. They were some pretty choice concert shirts--a few from AC/DC, Journey, Bon Jovi. Some, I'm sure, my mom owned in high school. I remember at the time I'd been dying to find old concert tees, obsessed with re-creating some look I'd torn out of an old
Teen Vogue
, and had come up short at my usual haunts.
"I'm getting rid of him, but first, I'm getting rid of his musty dumb t-shirts," she said.
The cashier explained they weren't a resale shop.
"You don't want 'em? That's fine," the girl said. "I'll give them to homeless people! Yeah! That'll really fuck with his head, seeing his favorite shirts on homeless people!"
My cashier was holding out my change, but I didn't notice. I was already shouting, "I'd actually like to buy one of those!"
Seven seconds later, I had plucked this AC/DC baseball T from the mass, and handed her $30. She definitely looked like she could use some wine.
Whoever you are, cheating guy whose shirts got sold off, thank you. At least one of them is being put to great use almost 10 years later!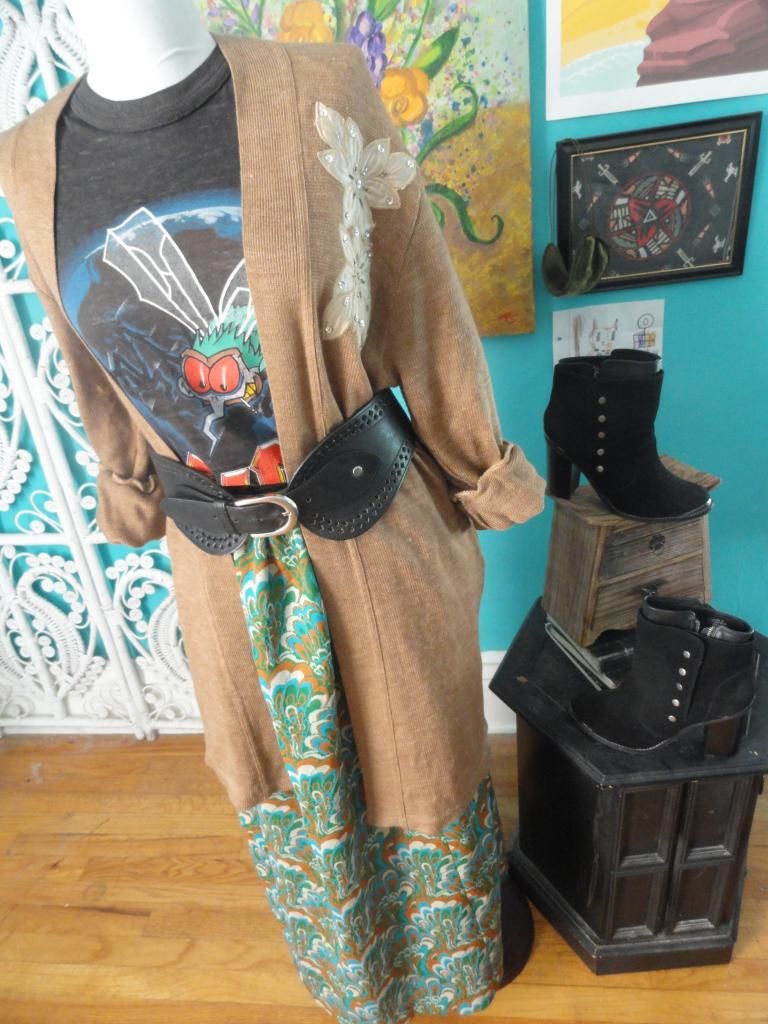 Cardigan and skirt: thrifted